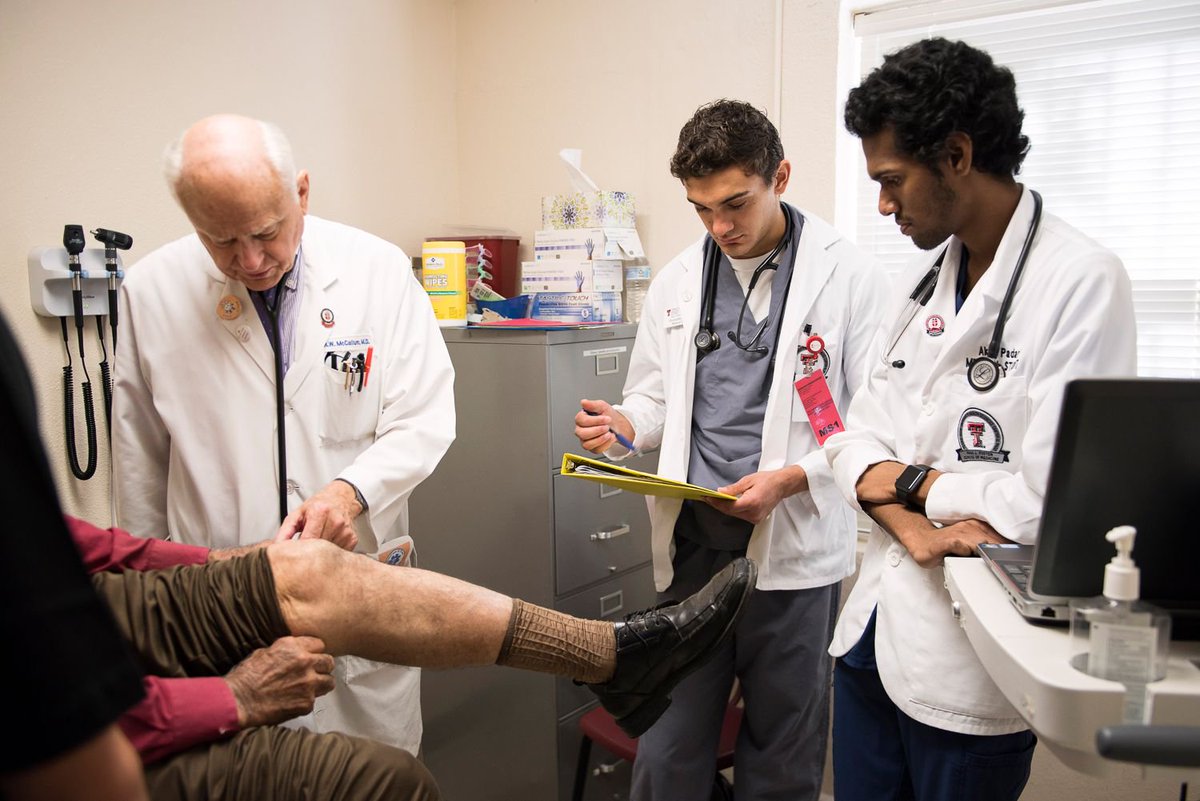 RotaCare El Paso is an Excellent Opportunity to Teach and Give Back to the  Community
Are you looking for a good way to serve the El Paso community while gaining the opportunity to teach the next generation of physicians? RotaCare El Paso is a free clinic that is run by Texas Tech El Paso medical students, the Rotary Club of El Paso, and local volunteer physicians. We help improve the health of El Paso's underserved communities. You do not have to be affiliated with Texas Tech El Paso to volunteer with us. We invite any physician with the desire to serve, teach, and improve the lives of our community members to volunteer with us.
What do Volunteer Physicians Do at RotaCare El Paso?
The patient care process at RotaCare El Paso is designed to give physicians excellent opportunities to teach students and interact with patients.

1: Medical students will do an initial history and physical exam with the patient. Students begin EMR documentation.

5. We have an on-site lab that can do several in-house labs or send out labs that are available the following week.
2: Medical students present their findings and ask question to one of our volunteer physicians.

6. Write prescriptions, give patient education, refer to specialists, and give follow-up instructions. 
3. The physician evaluates the findings, discusses the case, and explains possible diagnoses.

7. Physicians can refer patients to our on-site Social Worker to gain access to a variety of healthcare programs and community resources.

4. The physician and students ask the patient necessary questions and performs any additional physical exams.

8. Medical students complete the documentation. The physician reviews and signs off on the documentation.
RotaCare El Paso relies on community physicians to provide medical students with excellent learning opportunities and patients with high-quality, compassionate medical attention.
Why Should You Volunteer at RotaCare?
Serve the Underserved
Teach the Next Generation
Network with Like-Minded Local Physicians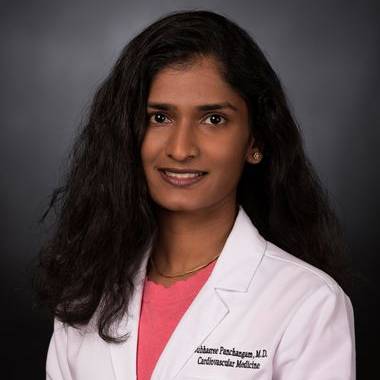 Dr. Subhasree Panchangam, Cardiology Fellow
"Why do I do this? It's a great opportunity to give back to the community, especially those with poor access to health care. Providing free medical care to the underserved offers a unique setting to strengthen bonds within the community using teamwork and taking social responsibility. The pathology we get to see at the clinic is very unique and it also offers a chance to shape future physicians."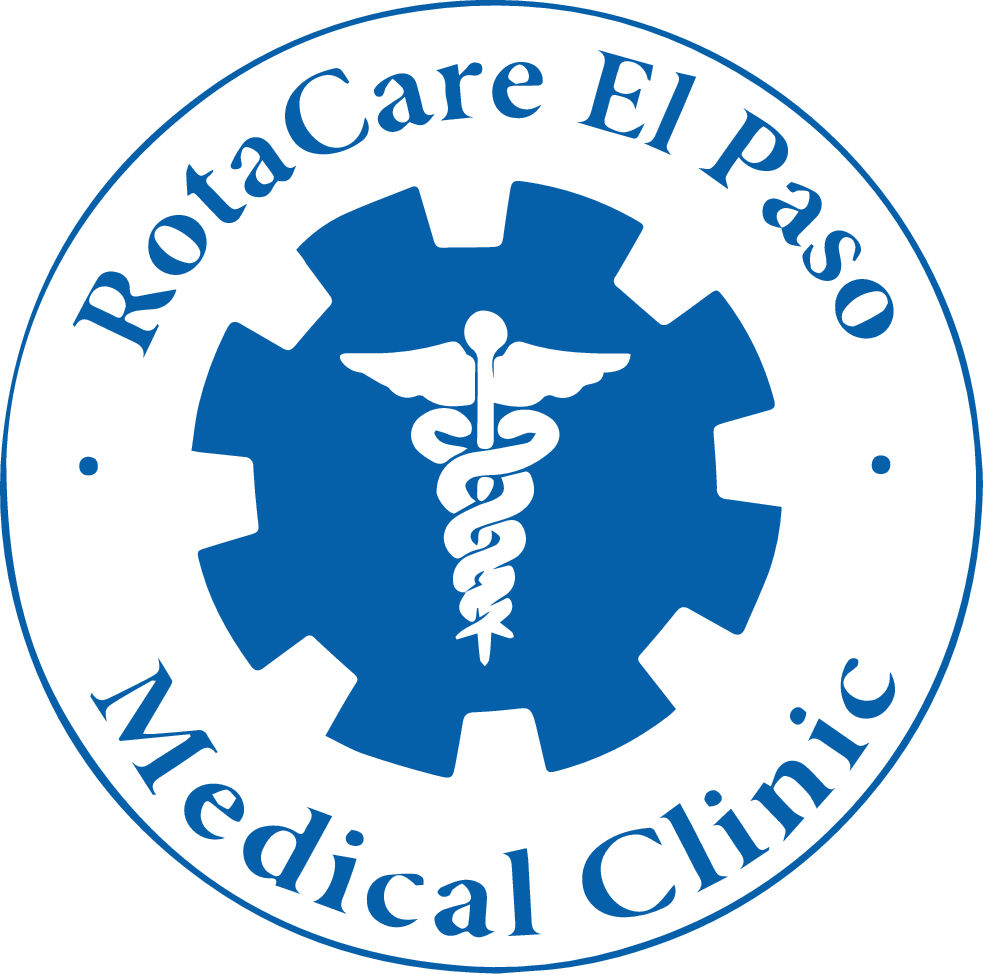 Do you have questions?
Email us below and we will answer your questions as soon as possible.
Richard W. McCallum, MD, FACP, FRACP (AUST), FACG, AGAF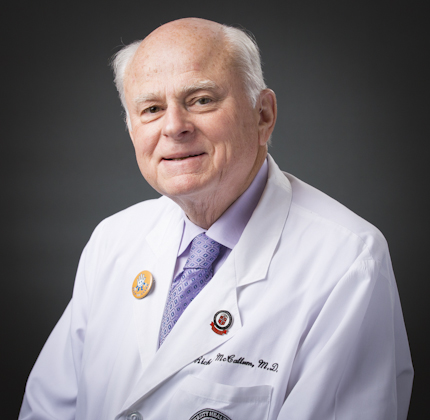 Dr. McCallum, a native of Brisbane, Australia, attended the University of Queensland and the Queensland Medical School. His academic appointments include Director of GI endoscopy and motility at Yale University; The Paul Janssen Professor of Medicine, and Chief of Gastroenterology at University of Virginia and then at Kansas University Medical Center, Professor and Founding Chair of the Department of Medicine at Texas Tech University in El Paso where he is currently Director of GI Research and the Center of Neurogastroenterology and Motility. He was recently appointed an honorary Professor of Medicine at his alma mater, the University of Queensland, Brisbane, Australia. 
Dr. McCallum has made major advances in pathophysiology, diagnosis and treatment of gastrointestinal motility disorders and functional bowel problems, specifically gastroparesis, the interactions between the brain and the gut as well as the mechanisms of nausea and vomiting. He pioneered gastric electrophysiology in humans and is the inventor of a gastric pacemaker for treating gastroparesis. His Research has been funded by the VA, American Diabetes Association, Pharmaceutical support, and the NIH where he is a member of the NIH Clinical Research Consortium in Gastroparesis – now funded for the last 12 years. He has more than 480 peer-reviewed scientific articles and 130 textbook chapters and edited 15 scientific textbooks. He has mentored over 100 – US and International Research Trainees, many of whom are now academic leaders including Dr. Barry Marshall, the 2005 Nobel Prize winner for discovery of H. pylori causing peptic ulcer. 
He was elected to the American Society for Clinical Investigation, is a fellow of the American College of Physicians, the Royal Australasian College of Physicians, the American College of Gastroenterology, the American Gastroenterology Association and the recipient of the 2015 Chancellor's Council Distinguished Research for Texas Tech Universities, the Washington University Alumni Achievement Award in 2017, the Gold Medal Award for Excellence in Academic Medicine from the Texas Medical Association in 2016, the Mentor of the Year Award for the Southern Society of Clinical Investigation in 2017, and the Texas ACP Chapter Laureate Award in 2017. He is also Editor-in-Chief of a new international online Journal – Gastrointestinal Disorders.
Email us anytime
Or call — (915) 790-0700
Calls will be returned on Saturdays

Great Healthcare, Free of Charge
Open Saturdays from 9 AM till 12 PM
301 S Schutz Dr, El Paso, TX 79907